Buy a Couch, Plant #100Trees: A Movement with Trees.Org
Posted by PULSE MEDIA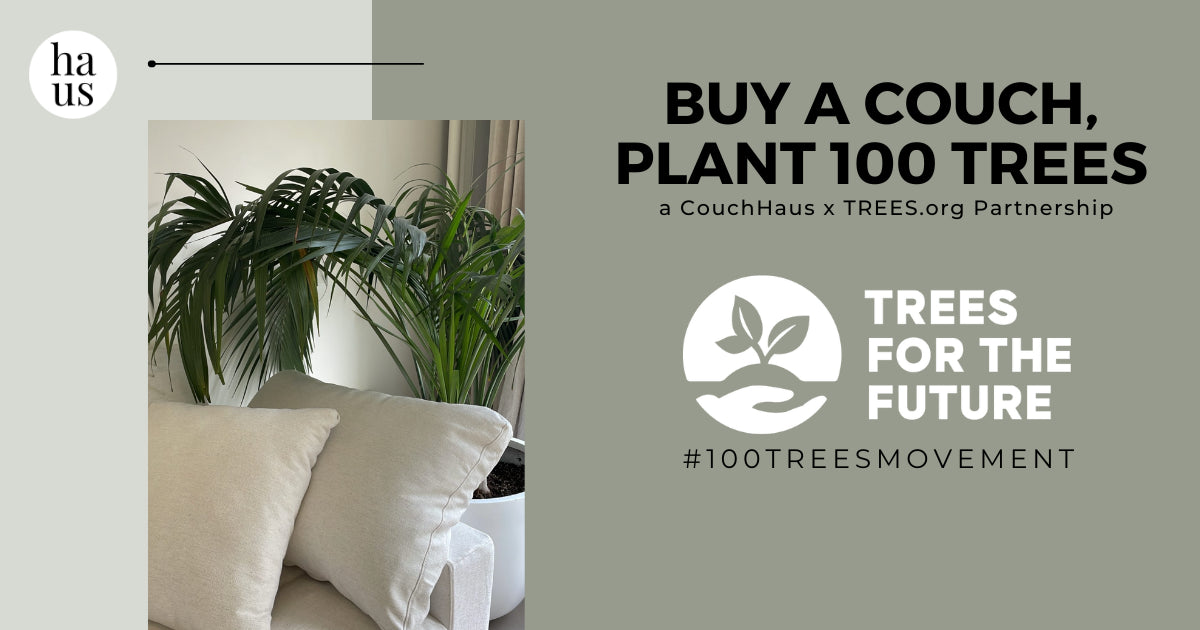 Here at CouchHaus, we are much more than a custom furniture brand that builds modular furniture and helps people create warm, welcoming spaces in their homes. We're also a company that cares deeply about healing the planet and leaving our world in a better state for future generations. With sustainability in mind, we recently established a partnership with Trees for the Future (TREES), a green movement that trains communities on sustainable land use, enabling them to build vibrant economies, thriving food systems, and a healthier planet for all.
Here's a rundown of what this partnership entails, how the #100TreesMovement helps the environment, and why CouchHaus is committed to this sustainable movement.
What Is the #100TreesMovement?

Buy a couch, plant 100 trees: That's the commitment we've made to support sustainability, help to resolve poverty, and make a global impact with our brand.
Our partnership with Trees.org ensures that with the purchase of every CouchHaus couch, 100 trees will be planted globally. The #100TreesMovement, as it's known, focuses on planting trees and saving lives by confronting hunger, poverty, and environmental degradation. The movement serves farmers and their families, the very people who are at the heart of our global food systems.
This effort also supports the Forest Garden Approach, which combines agroforestry and sustainable farming practices to protect the land and reinvigorate it with nutrients, all while diversifying crops and optimizing space. Farmers trained in the Forest Garden Approach are more resilient to weather patterns related to climate change, such as drought and flooding. They are also able to grow a variety of fruits and vegetables as their soil health improves and degradation lessens, thus increasing their income and food security. Through the Forest Garden Approach, farmers and their communities gain access to diverse, nutrient-rich meals all throughout the year, no matter the weather.
Thanks to the Forest Garden Approach, many farmers also go on to start other businesses — selling everything from seeds and seedlings to soap and honey. The movement is a proven hero among farming families and their communities across sub-Saharan Africa, with lasting effects for the environment, anti-poverty efforts, and food security. 
The Global Impact of Trees
Through the commitment of organisations like Trees.org, trees are helping to transform lives and landscapes. Sustainable land use and the planting of trees have the power to improve lives, restore the planet, and support global communities. In addition, the #100TreesMovement is empowering women: Farmer groups in the program must be composed of at least 30% women farmers, a number that is often exceeded.
Since its founding in 1989, Trees for the Future has completed work in nine countries across Sub-Saharan Africa, where the Forest Garden Approach tends to have the greatest impact. Planting trees in developing countries has an incredible global impact that's far greater than that of mass tree plantings. The trees have a higher rate of survival and also work to benefit the farmers and their families who care for the trees.
Working with Trees for the Future in this way is an honour for us at CouchHaus — one that we are looking forward to growing in the future.
To learn more about Trees for the Future, visit their website; you can also head over to CouchHaus to learn about our company, our mission, and our values. Collection 2019 Sale 70% Off Title for image