Personalized Design: Creating Your Dream Couch at CouchHaus
Posted by COUCH HAUS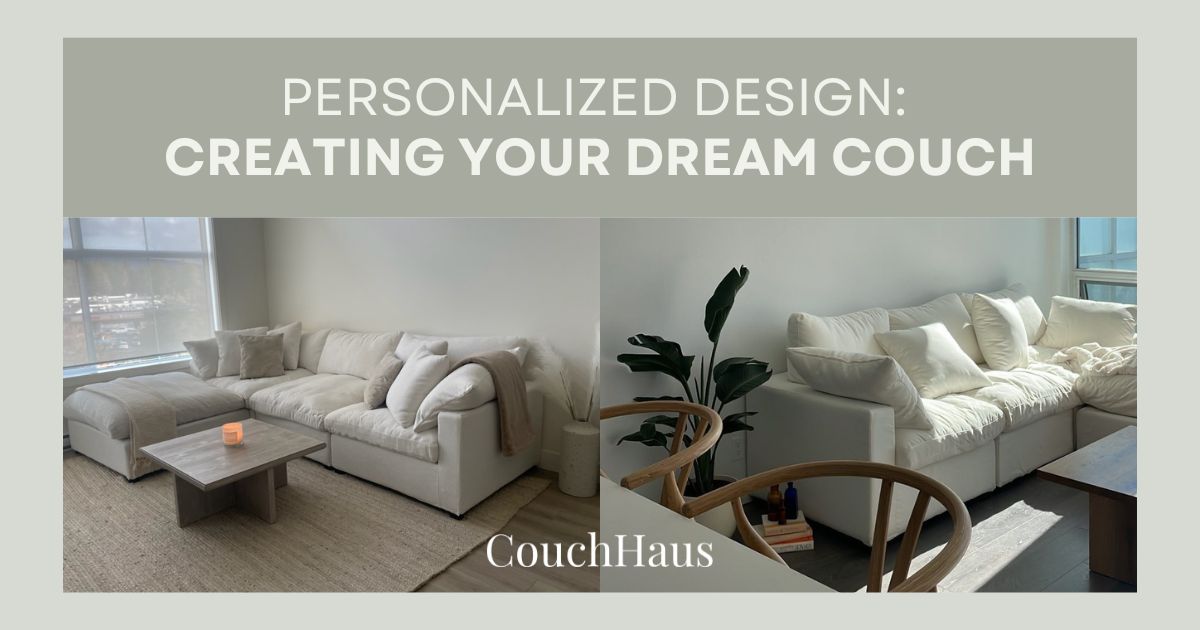 Are you looking for the perfect couch that fits your unique style and needs? If you're tired of settling for mass-produced furniture that doesn't quite meet your design preferences, then customizing a couch could be the perfect solution for you! At CouchHaus, we understand the importance of personalized furniture that reflects your individuality, and we offer a seamless process for customizing your dream couch. In this blog post, we'll explore how you can customize a couch at CouchHaus, including options such as chatting with a designer, setting up a video call, having a designer visit your home, or visiting our showroom.
Step 1: Chat with a Designer
The first step in customizing your couch at CouchHaus is to chat with one of our experienced designers. Our website features a convenient chat function that allows you to connect with a designer who can guide you through the customization process. You can discuss your design preferences, desired dimensions, fabric options, and other details to create a couch that perfectly fits your style and space. Our designers are knowledgeable and skilled in helping you make the right choices to bring your vision to life.
Step 2: Set Up a Video Call
Another option for customizing your couch at CouchHaus is to set up a video call with one of our designers. This virtual consultation allows you to have a more personalized experience without leaving the comfort of your own home. During the video call, you can discuss your design ideas, ask questions, and receive expert advice on how to create a couch that meets your specific requirements. Our designers can show you fabric samples, discuss different customization options, and provide recommendations based on your preferences and budget.
Step 3: Designer Home Visit
If you prefer a more hands-on approach, CouchHaus also offers the option to have a designer visit your home. Our designers can come to your location and assess your space, measure the dimensions, and discuss your design preferences in person. This allows for a more in-depth understanding of your space and design requirements, and our designers can provide personalized recommendations based on your home's unique characteristics. This option is ideal for those who want a tailored solution that takes into account their specific space and design needs.
Step 4: Visit Our Showroom
For those who prefer to see and feel the fabrics and finishes in person, you can also visit our showroom. CouchHaus has a showroom where you can explore our different customization options and see the quality of our furniture up close. Our knowledgeable staff will be happy to assist you in choosing the right fabrics, finishes, and design elements to create a couch that matches your style and preferences. You can touch and feel the fabrics, sit on different couches to test for comfort, and see the craftsmanship that goes into creating our custom furniture.
Step 5: Select Your Customization Options
Once you have consulted with our designers, either through chat, video call, home visit, or showroom visit, it's time to select your customization options. At CouchHaus, we offer a wide range of customization options to suit your style and needs. Some of the customization options include:
Fabric: Choose from a vast selection of high-quality fabrics in various colors, patterns, and textures to suit your taste and lifestyle. Our designers can help you choose the perfect fabric that fits your design vision and is durable and easy to clean.

Size and Configuration: Customize the size and configuration of your couch to fit your space perfectly. Whether you need a sectional, a sofa, a loveseat, or a custom shape, our designers can help you create the ideal layout for your room.

Design Elements: Select design elements such as arm style, leg style, cushion style, and more to personalize your couch. From modern to traditional, we offer a variety of design options to suit your style preferences.
Step 6: Review and Finalize Your Customization
Once you have selected all your customization options, our designers will provide you with a detailed quote for your custom couch. You will have the opportunity to review and approve the final design and pricing before moving forward with the order. Our designers will ensure that all your customization options are accurately captured and that your couch is tailored to your specifications.
Step 7: Production and Delivery
Once your order is confirmed, our skilled craftsmen will start the production process. Each CouchHaus custom couch is handcrafted with attention to detail and quality. Our team will carefully build your couch according to your custom specifications, using high-quality materials and expert craftsmanship.
Once your couch is completed, we will coordinate the delivery to your preferred location. Our professional delivery team will ensure that your custom couch is delivered to your home safely and securely, ready for you to enjoy.
Ready to get started?
Customizing a couch at CouchHaus allows you to unleash your creativity and create a piece of furniture that perfectly fits your style, space, and needs. From selecting the fabric, design elements, and additional features, to reviewing and finalizing your customization, and finally, experiencing the high-quality craftsmanship and personalized design, the process is seamless and enjoyable. With the expert assistance of our designers and the flexibility of customization options, you can have a custom couch that truly reflects your personality and enhances your living space.
So why settle for a generic couch when you can have a custom-made masterpiece from CouchHaus? Start your customization journey today and let us help you create a couch that is uniquely yours. Visit our website, chat with a designer, or schedule a video call to get started. Elevate your home with a custom couch that is a perfect blend of style, comfort, and functionality, only at CouchHaus.com Collection 2019 Sale 70% Off Title for image