Why CouchHaus Stands Out in the Direct-to-Consumer Sofa Market
Posted by PAIGE SANDHER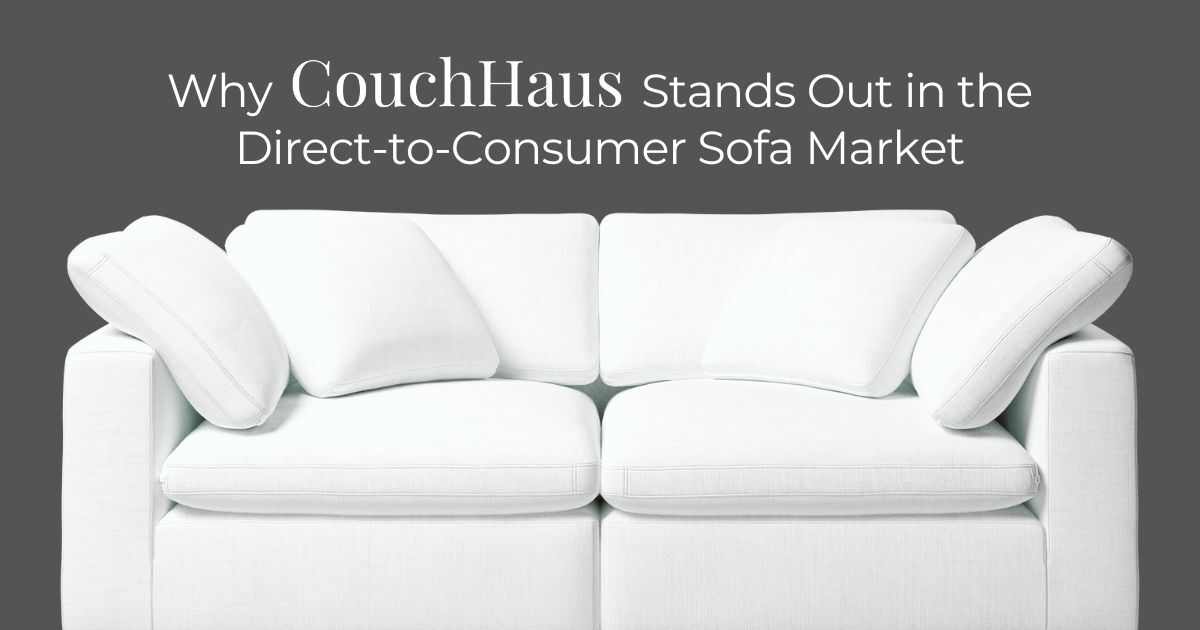 In the vast landscape of the direct-to-consumer sofa market, one brand shines brightly with its exceptional offerings and commitment to customer satisfaction: CouchHaus. With a range of unique selling points and a dedication to quality and customization, CouchHaus has become a go-to destination for those seeking the perfect sofa. In this article, we will delve into what sets CouchHaus apart from its competitors, highlighting their exceptional features and sharing testimonials from satisfied customers.
Commitment to Quality:
At the heart of CouchHaus is a steadfast commitment to quality craftsmanship. Every sofa is meticulously constructed using premium materials, ensuring durability and longevity. From the sturdy frames to the resilient cushions, each component is thoughtfully designed and rigorously tested to withstand the test of time. CouchHaus takes pride in their attention to detail and precision, resulting in sofas that exude both elegance and reliability.
Customization Options:
One of CouchHaus' greatest strengths lies in their extensive customization options. They understand that every customer has unique preferences and living spaces, and they strive to accommodate individual needs. Whether it's adjusting the length of the sofa to fit a specific room or choosing the armrest and backrest options, CouchHaus provides a level of customization rarely found in the direct-to-consumer sofa market. Not sure what you need? Take the Quiz Today!
The "Comfy Couch" Advantage:
CouchHaus' flagship sofa, the "Comfy Couch," embodies their dedication to comfort and versatility. With its modular components, customers can effortlessly create configurations that suit their changing needs. Whether it's a cozy loveseat or a spacious sectional, the "Comfy Couch" adapts to any living space. The modular design not only offers flexibility but also ensures easy maintenance, as the removable and washable covers allow for quick cleaning and hassle-free care.
Unparalleled Fabric Selection:
CouchHaus takes pride in their extensive fabric selection, offering over 300 different colors across various grades. From the luxurious feel of velvet to the durability of performance fabrics, there's something to suit every taste and lifestyle. Whether you prefer the timeless elegance of real leather or the eco-consciousness of vegan leather, CouchHaus ensures that each fabric option is of the highest quality, providing both style and functionality.
Customer Satisfaction and Testimonials:
CouchHaus' commitment to customer satisfaction is evident through the numerous testimonials from delighted customers. Let's hear what some of them have to say:
Justine from Vancouver shares, "10/10 experience and product!  We love our couch so much, it's not only beautiful, but very comfortable. The fact you can customize a piece for this price point is impressive. They have truly disrupted the industry in my opinion. We're very happy to have found this incredible company and plan to purchase more in the future."

Brittany from Toronto raves, "

My couch was delivered in less time than originally quoted, and they even held it at their warehouse (free of charge) for a few weeks while I waited to take possession of my place. I truly could not be happier with the result - the couch is now the centerpiece of my place. The fabric and cushions are high quality and comfortable. The only problem is I never want to get up off of it lol!
Santana from Calgary explains, "I've had my couch for about 4 months now and I couldn't be happier with it! So stylish, incredibly comfy and amazing with pets. I customized the size to fit in my living room and Paige made it so easy! Can not recommend CouchHaus enough!"
Chase from the Island says, "We didn't know exactly what to expect because it was ordered online but when it came it exceeded our hopes! The leather is soft and comfortable. The stitching is strong. Top of the line everything. It's big enough to fit lots of friends for a movie and doubles as an extra bed when we need it!"
Conclusion:
CouchHaus has firmly established itself as a standout brand in the direct-to-consumer sofa market, and for good reason. Their unwavering commitment to quality, their exceptional customization options, and their dedication to customer satisfaction set them apart from the competition. 
Whether you're seeking a personalized sofa that fits your unique space or a modular design that adapts to your changing needs, CouchHaus.com delivers on all fronts. Don't just take our word for it—listen to the testimonials of countless satisfied customers who have experienced the CouchHaus advantage firsthand. 
Discover why CouchHaus is the go-to destination for those in search of the perfect sofa that combines comfort, style, and versatility. Collection 2019 Sale 70% Off Title for image