Discover MicroSealBC: The Ultimate Fabric Protection
Posted by PAIGE SANDHER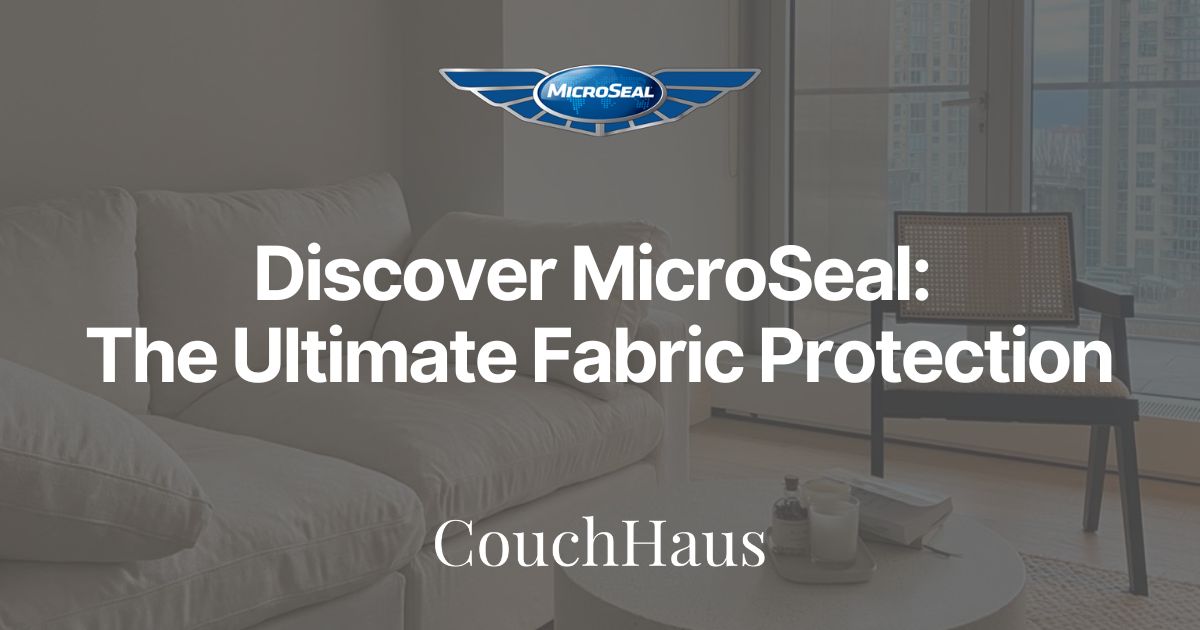 As a CouchHaus customer, you understand the importance of maintaining the quality and cleanliness of your furniture. Whether you have just invested in a brand new couch or you are looking to extend the lifespan of your current upholstery, one name stands out as the ultimate solution: MicroSealBC.ca. In this blog post, we will explore the benefits and features of MicroSealBC.ca and how it can revolutionize the way you care for your furniture. Check out our other blog post that compares having Performance Fabric to treating your furniture with Microseal.
Unveiling MicroSealBC.ca
MicroSealBC.ca is a leading provider of innovative fabric protection solutions. Their cutting-edge technology, combined with their commitment to customer satisfaction, has made them a trusted name in the industry. With years of experience and expertise, they have perfected the art of fabric protection, making it easier than ever to safeguard your investment.
Unparalleled Fabric Protection
The primary focus of MicroSealBC.ca is to provide a non-toxic unparalleled fabric protection. Their proprietary formula creates an invisible barrier on your upholstery that repels liquids, stains, dirt, and even harmful UV rays. This means that your furniture is safeguarded against spills, accidents, and everyday wear and tear.
MicroSeal penetrates the fabric and leather at a molecular level by means of nanotechnology, maintaining the appearance and the texture of the fibre. Unlike other products that exist in the market, MicroSeal is not a coater so does not need to be reapplied after cleaning and will not wear off.
What sets MicroSealBC.ca apart is its ability to protect all types of fabrics, including delicate and exotic materials. Whether you have a luxurious velvet sofa, a classic leather couch, or a cozy fabric armchair, MicroSealBC.ca offers a comprehensive solution that preserves the beauty and integrity of your furniture. Check out all of our fabric offerings here.
Environmentally Friendly Solution
MicroSealBC.ca prides itself on being an environmentally conscious company. Their fabric protection solution is non-toxic and contains no harmful chemicals, making it safe for you, your family, and your pets. Additionally, their application process uses minimal water, reducing the environmental impact and allowing for quick drying times.
Long-Lasting Effects
One of the most impressive aspects of MicroSealBC.ca is its long-lasting effects. Unlike traditional fabric protectors that wear off over time, MicroSealBC.ca provides permanent protection. Once applied, the barrier becomes an integral part of the fabric, ensuring that your furniture remains resistant to stains and spills for years to come. MicroSeal completely penetrates each fibre and will survive 8 to 10 professional cleanings. Fibres are actually strengthened so normal wear on items is greatly reduced. This translates into significant cost savings as you won't need to invest in regular reapplications or expensive professional cleanings.
Easy Maintenance
Another advantage of choosing MicroSealBC.ca is its ease of maintenance. The protective barrier created by MicroSealBC.ca repels dirt and stains, making it much easier to clean your furniture. In most cases, a simple wipe with a damp cloth is all you need to keep your upholstery looking fresh and pristine. This saves you time and effort while keeping your furniture in top condition.
MicroSeal will not change the colour, texture or feel of any type of fabric. What's more, if accidentally over sprayed on wood, glass, tile or metal it will not damage the finish and is easily wiped away. MicroSeal doesn't contain water so it cannot promote shrinkage or colour change.
Exceptional Customer Service
MicroSealBC.ca takes pride in its exceptional customer service. Their team of experts is readily available to answer any questions you may have and guide you through the entire process. From the initial consultation to the application of the fabric protection solution, they ensure a seamless and hassle-free experience.
If you're a CouchHaus customer looking for the ultimate solution to protect and prolong the lifespan of your furniture, look no further than MicroSealBC.ca. Their state-of-the-art fabric protection technology, combined with their commitment to customer satisfaction, makes them the go-to choice for anyone who wants to safeguard their upholstery. With MicroSealBC.ca, you can enjoy peace of mind knowing that your furniture is protected against spills, stains, and everyday wear and tear, while also benefiting from their environmentally friendly and long-lasting solution. Invest in MicroSealBC.ca today and discover a new level of furniture care and preservation.
Need help booking with Microseal BC? Mention our name! Collection 2019 Sale 70% Off Title for image